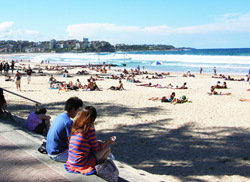 Just a short ferry ride from the hustle and bustle of Sydney, you'll find yourself in the beautiful paradise that is Manly.
It's hard to believe such a chilled out beach town could offer so much, and still be close to one of Australia's major cities.
With beaches on every side, it's simple to see why Manly is one of the most popular places in Australia to visit and why so many visitors can't resist its charms and end up staying for good.
With the laid- back beach culture of Manly co-existing in perfect harmony with the buzzing nightlife of wine bars and great restaurants, you couldn't ask for more.
Whether you want to spend your day wandering barefoot along the sand of Manly beach, try your luck surfing in the world famous waves or cool off in the tranquil water of the harbour beach – one thing is for sure, you can't help but feel relaxed when you come to Manly.
But don't be fooled, Manly life is not all about the beach. With so many great coffee shops, wine bars and restaurants you'll be spoilt for choice when it comes to going out.
And, if you need to walk it all off, you're in luck, Manly offers some of the best nature walks in Sydney, rewarding you with breathtaking views across Sydney Harbour and back towards the city.
With all this in mind, how could you possibly resist visiting Manly?
But, let us warn you now, once you settle into the Manly lifestyle, you will never want to leave.
Stay in the loop about what's going on in Manly and check out our blog here, it's full of useful information whether you're staying one night or one month.